Behind the scenes
Why an FOI rejection 'radicalized' this Globe reporter
Published on June 7, 2023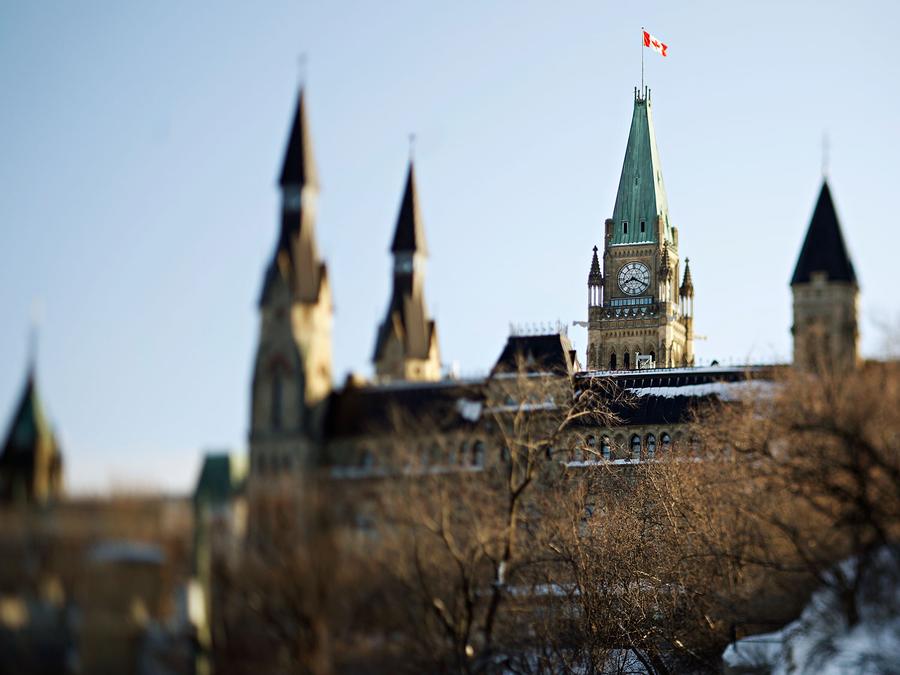 Three days into 2019, Aaron Orban, the executive director of the access and privacy branch for Saskatchewan's Ministry of Corrections and Policing, fired off an e-mail to a who's-who of public servants responsible for freedom of information across the country.
"We're in the middle of processing an access to information request and I am curious if anyone else has received it," Mr. Orban wrote, appending the lengthy text of an FOI request. "Please be in touch if you've received a request like this as I would like to see how others have responded." 
The e-mail went to 24 people, including senior public servants in British Columbia, Alberta, Saskatchewan, Manitoba, Ontario, New Brunswick, Nova Scotia, Prince Edward Island, Nunavut, Yukon, the Northwest Territories and the federal government. (The only jurisdictions Mr. Orban did not reach out to, it seems, were Quebec and Newfoundland and Labrador.)
The FOI request he was "curious" about was mine.
My experience with this FOI, and what I eventually learned about how this group of public servants had worked together to deny my legitimate requests for information, was a wakeup call. The experience radicalized me, and showed me how many officials administering this system actually view the law – and the principles of openness and transparency – they have pledged to uphold.
In 2018, I'd filed near-identical FOI requests to each of Canada's 14 federal, provincial and territorial prison agencies asking for data from their correctional databases. I figured there might be interesting stories hidden there, particularly in the relationships between peoples' sentence lengths, age, sex and race.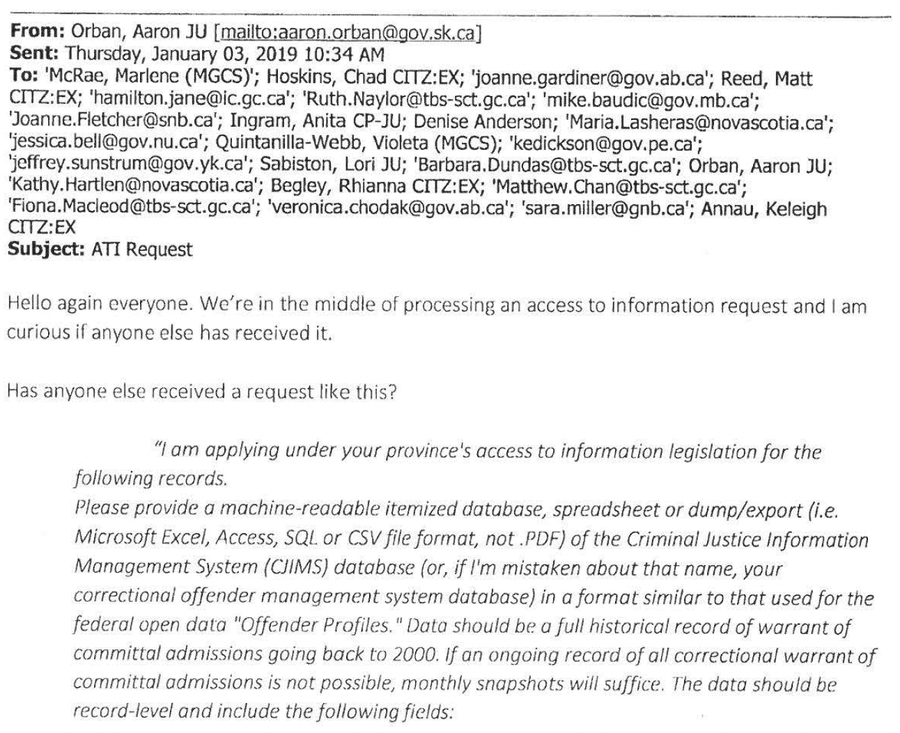 Subsequent FOIs later revealed that officials for at least five provinces responded to Mr. Orban, acknowledging they'd gotten the same request. What ensued was a detailed discussion about how to block me from getting what I wanted.
"Currently I don't have an identified exception to deny access," wrote Denise Anderson, an access manager in the Northwest Territories. "But I've been asked to check with other jurisdictions that received this regarding approaches they have taken."
Maria Lasheras, the chief information access and privacy officer for Nova Scotia at the time, wrote back. Perhaps the Northwest Territories could argue the information was exempt from FOI law, given it was derived from public court proceedings? (In many jurisdictions, records that are already public, including court filings, are not subject to FOI.)
"Sadly, we don't have a similar section in our Act," Ms. Anderson lamented.
I reached out to both Ms. Lasheras and Ms. Anderson for comment. In an e-mail, spokesperson Blaise Theriault of Nova Scotia said that while Ms. Lasheras was no longer with the government, FOI professionals across the country "meet on a regular basis to discuss issues in the field, such as case law, interpretation and other new developments."
Northwest Territories spokesperson Ngan Trinh told me the territory's "current practices do not generally involve in depth discussion with other jurisdictions on responses to access requests in the way you have described above. Seeking input from other jurisdictions on advice on application of exceptions would be rare."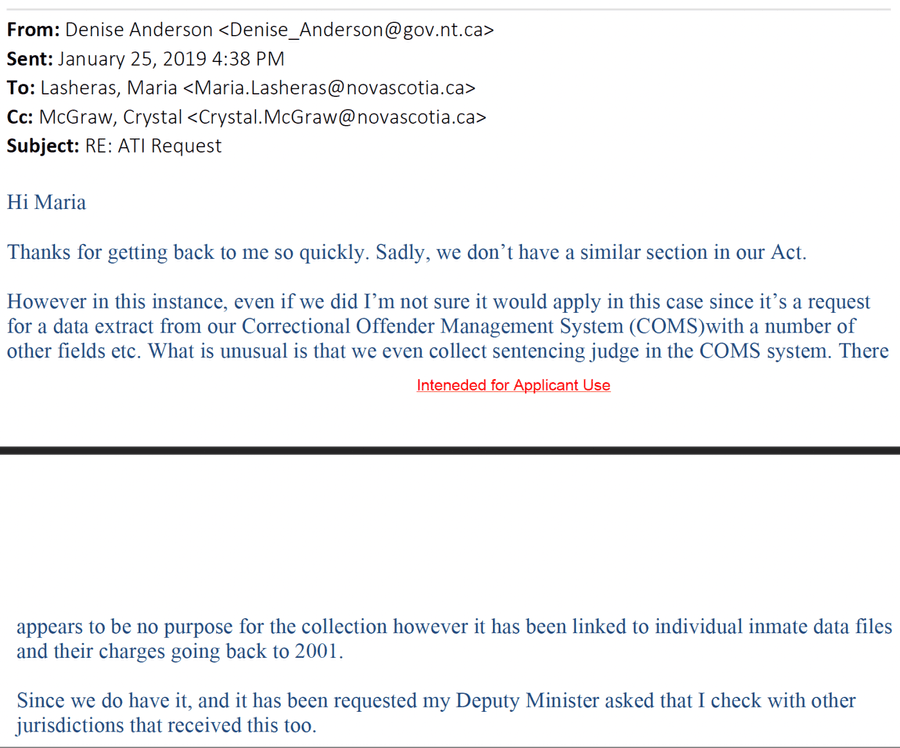 Meanwhile, in a lengthy internal e-mail to staff at Saskatchewan's Ministry of Corrections and Policing, Mr. Orban laid out his rationale for denying my request. While creating a record was possible, he wrote, it would be a lot of work and would "unreasonably interfere" with "ordinary business operations."
His office had considered other reasons for denying me, he explained. They could have provided me with a fee estimate, as is normal with complex FOIs, but decided against it since they were unsure what the costs would be, and the government could not legally charge more than what they quoted in their first estimate. 
They had also considered telling me the records didn't exist since, at a "purely literal level," the exact data I had requested would need to be generated from their database. Mr. Orban closed his e-mail by noting that it was likely I would file an appeal and that they could "cross that bridge when we get to it."
When I first received Saskatchewan's denial letter, I was confused. I'd barely heard from the FOI office during the request process, and I had the sneaking suspicion they were avoiding my calls and e-mails. Now, they were denying me flat-out, without any context. Why would my request "unreasonably interfere" with government functions? How did they arrive at that conclusion? Why was I not warned this might be an issue and given a chance to alter my request?
Other e-mails I obtained through subsequent FOI requests showed that Saskatchewan put a lot of thought and effort into stymying me – which included starving me of information about why my request was being turned down.
"This response letter has been purposely kept succinct," wrote Chantelle Probe, a director of access, privacy and risk management, in an e-mail to staff explaining why they'd kept their final reply to my request so lean. "If you feel additional explanation is justified, please advise and we can revise our response." (Ms. Probe, who left the ministry for a different government position in 2021, declined to comment.)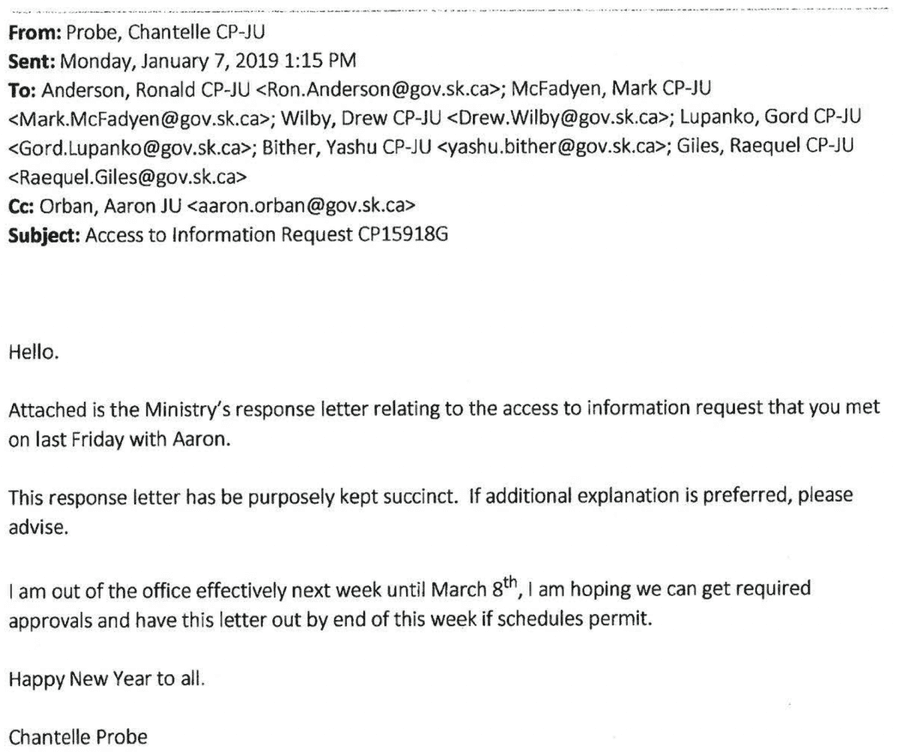 Reading these e-mails in 2019 had a profound impact on me and my work. 
Public servants, politicians, academics, the media, activists and lawyers all talk about the essential role of freedom of information – yet here was powerful evidence that senior government staff in several jurisdictions were coordinating on how to deny access to FOI requests they admitted were legitimate.
From that point on, I began using FOI more strategically. In the same way that the government had attempted to be as clever as possible to deny me, I decided to be more proactive in testing the limits of FOI laws. I began filing increasingly creative requests and more appeals, and became tactical – in some cases filing requests with the sole purpose of drawing the government into appeals on issues I thought could set useful precedents at information tribunals.
As Mr. Orban predicted, I did appeal his unit's denial to the Office of the Saskatchewan Information and Privacy Commissioner. In 2020, a biting rebuke signed by commissioner Ron Kruzeniski said the government had not applied the law correctly and had not met its legislated duty to assist me in my FOI request. It recommended the ministry respond to my request and release the data, minus any applicable exemptions.
The information commissioner's decision didn't carry much weight with the government of Saskatchewan, however.
"The Ministry does not accept this recommendation," Mr. Orban wrote in a letter addressed to me two weeks later. He knew that in Saskatchewan, the information commissioner doesn't have the power to order disclosure; instead, they can only issue recommendations.
We had the option of taking this denial to the next level of appeal – court – but faced with the prospect of lengthy and costly litigation for correctional data of unknown quality, my employer, The Globe and Mail, decided not to pursue it. At last, 20 months later, Mr. Orban and the Saskatchewan government had won.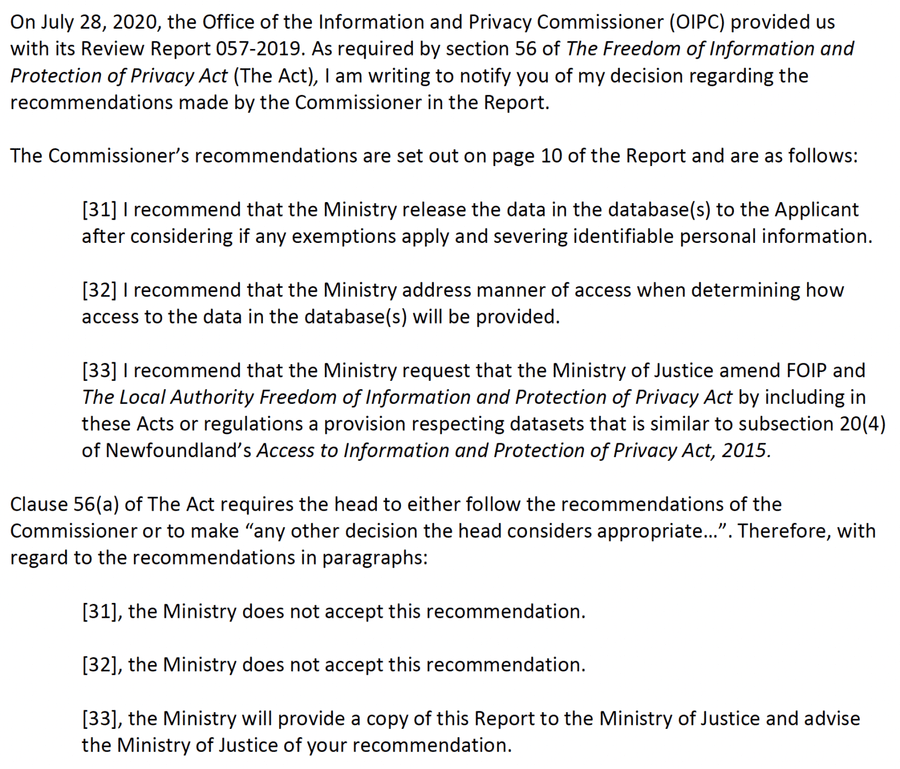 I also sent Mr. Orban several questions for this story. My questions were routed to Noel Busse, a government spokesperson. "Your request was thoroughly reviewed, and a response provided based on legislative requirements," he said in an e-mail. "It is not abnormal for the Access and Privacy Branch to reach out to counterparts in other provinces to discuss best practices for freedom of information requests, depending on the nature of the request."
Today, while I still regularly file requests, I do so knowing FOI is deeply, fundamentally broken – in part because of the culture of denial and secrecy which I saw a sliver of in those e-mail chains.
These kinds of experiences are what drove me to work on Secret Canada, The Globe's investigation into the state of the country's many freedom of information regimes. The picture we've assembled during our reporting isn't pretty: Extensive redactions have become the norm, delays are rampant and some public servants seem wholly uninterested in administering the access laws they were hired to uphold.
But there are also beams of light cutting through the darkness: Public servants going the extra mile to obtain information for requesters, researchers taking the government to court to fight for disclosure and experts agitating for updates to aging FOI laws.
To be clear, my interactions with public servants during my bout of correctional data requests in 2018 were mostly positive (at least those outside Saskatchewan and Manitoba, which denied me citing 10 different exemptions, a personal record). It was clear that most believed in the value and purpose of FOI and wanted to find a way to get me what I needed – but my heart still drops when I think of the e-mail chain Mr. Orban kicked off on a cold January morning.
Those correctional FOIs ultimately bore fruit. The data I received from the federal government led me to write "Bias Behind Bars," a series of stories beginning in 2020 that revealed that the risk assessments used by Correctional Service Canada, the federal prison agency, were statistically biased against Indigenous and Black people.
Unfortunately, FOI-driven reporting of this sort is now rare, in large part because the system has become slower and more restrictive. But our work on Secret Canada has pointed to solutions that could prove to be a way out of the information crisis we find ourselves in.
Freedom of information could be a powerful tool wielded by the public – but only if the government decides to believe in it.
You can read the e-mails I obtained from Saskatchewan here, along with correspondence from Nova Scotia, Manitoba, Alberta and British Columbia.
---
We'd love to hear about how you're using Secret Canada. Send us a note or use the hashtag #SecretCanada on social media. This information helps us grow the project.
To stay updated on FOI news, upcoming data releases and new features, sign up for The Globe's Secret Canada newsletter.