Q&A
Kathleen Wynne: Some secrecy must remain for government to function
Published on July 6, 2023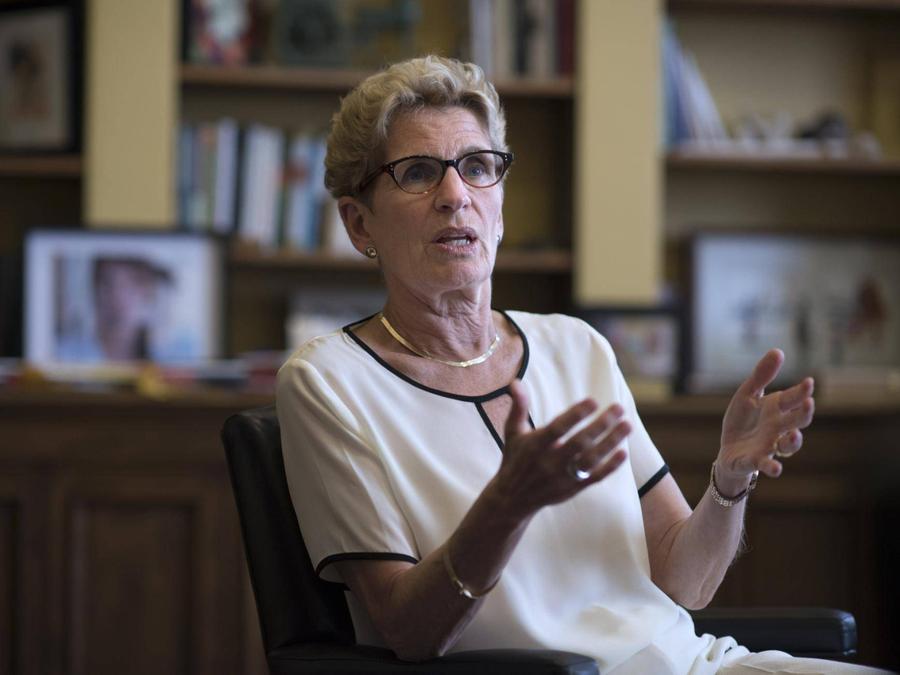 Kathleen Wynne was the 25th premier of Ontario, leading the province for five years up until 2018. In a recent conversation with The Globe and Mail, Ms. Wynne speaks frankly about why governments never get around to fixing access to information, what really happens at the political level when a controversial freedom of information request comes in, the Ford government's fight to keep ministerial mandate letters secret and why some information does need to be protected in order for government to function. 
All right, let's start with a bang: When you were premier, why didn't you fix FOI in Ontario?
Honestly, there are a million things that we could have done in government that we didn't get to, sadly. I guess that's one of them. My priority was to get information out before the fact through proactive disclosure, so they didn't have to be FOIed. For example, we were the first government to release our mandate letters to ministers. Or if we had an announcement, we'd offer a technical briefing. So the tone and tenor of our government was to be more open, but we didn't specifically tackle FOI that I can remember.
You mentioned your mandate letters. Right now, the Ontario government is fighting to keep Premier Doug Ford's ministerial mandate letters secret. These are the marching orders he sent his cabinet back in 2018. The Progressive Conservative government didn't proactively release them, so the CBC filed an FOI, which was denied under an exemption that protects cabinet deliberations. The matter was appealed and it has now worked its way through the system to the Supreme Court. What do you make of this?
I don't understand it. We were the first government to release our mandate letters publicly, and then Trudeau did the same thing. There are a couple of reasons that a government wouldn't want to release the mandate letters. One would be that they want to make the point that they aren't public documents and they don't want to feed into a narrative that governments have to release them as a matter of course. But the second is they don't want the public to know what's in those letters. They don't want to be held accountable. And I think that's the really problematic reason.
All right big picture, when you were premier, what did you think of freedom of information requests?
My inclination was always – as much as possible – to give as much information as possible. I'm not going to pretend that there weren't considerations about how much you put out. But my instruction to my staff was: We're going to be held accountable for what we've done, so we might as well let the information go. Often it was about releasing more, because we wanted to provide additional context. 
Be honest: Did you find access requests annoying?
We accepted FOI as a fact of life. It was largely a bureaucratic process. I think it was annoying sometimes for people who had to compile the information. 
I know that, in Ontario – and this is true for other jurisdictions in Canada as well – the premier's top communications staff is given a briefing of high-profile or sensitive freedom of information requests that are being processed by the civil service on a weekly basis. This was happening when you were premier as well. What happens with those briefings?
My staff would have spent much more time with it than I did and bring to me any issues that they might be concerned about. I wouldn't get the whole list every week or every month even. I would see the ones that were imminently going to go out.
So, what's the purpose of these briefings? As a journalist, I'm curious why this process should intersect with politicians at all?
I wanted to have as much information as possible about what was going to be in the public realm, because I could be asked about those things at any time. And I think it's important to have political eyes on this kind of process. I'm not saying that in a cynical way. It's about laying the groundwork, so people have all the necessary facts and context, so they can actually understand what it is that the government is doing. Once an issue is out, the camps start to form, and it's very hard to insert new information into a discussion once that happens.
Can you give me an example?
Okay, road tolling. So [former Toronto mayor] John Tory and I had had a conversation about the notion of tolling roads, to which I am not – and was not – opposed. And then months later, without any warning, he announced he was going to ask permission to toll the Gardiner and the Don Valley Parkway. There hadn't been any background or regional conversations. And the camps formed right away. People were either very supportive or very opposed. There had been no groundwork to prepare the public discussion. It became very difficult.
I guess this is a good segue to my last question: All of Canada's freedom of information laws have provisions that protect advice to government, and cabinet deliberations. Access advocates would say these provisions are overused and perhaps abused.
Cabinet confidence is important. There have to be places where ministers and the premier or the leader of whatever level of government are able to speak freely about all the options that are on the table. If that doesn't happen then the public is not going to benefit from the best decisions. Sometimes, you need to explore the bad options. If you can't have an open conversation that you know is not going to be in the public realm, then somebody is going to hold back. Everything can be explored without judgment or fear of retribution or embarrassment. Those conditions have to be in place.
This interview has been edited and condensed.
---
We'd love to hear about how you're using Secret Canada. Send us a note or use the hashtag #SecretCanada on social media. This information helps us grow the project.
To stay updated on FOI news, upcoming data releases and new features, sign up for The Globe's Secret Canada newsletter.