Behind the scenes
Inside a years-long FOI fight for 911 wait-time data
Published on July 18, 2023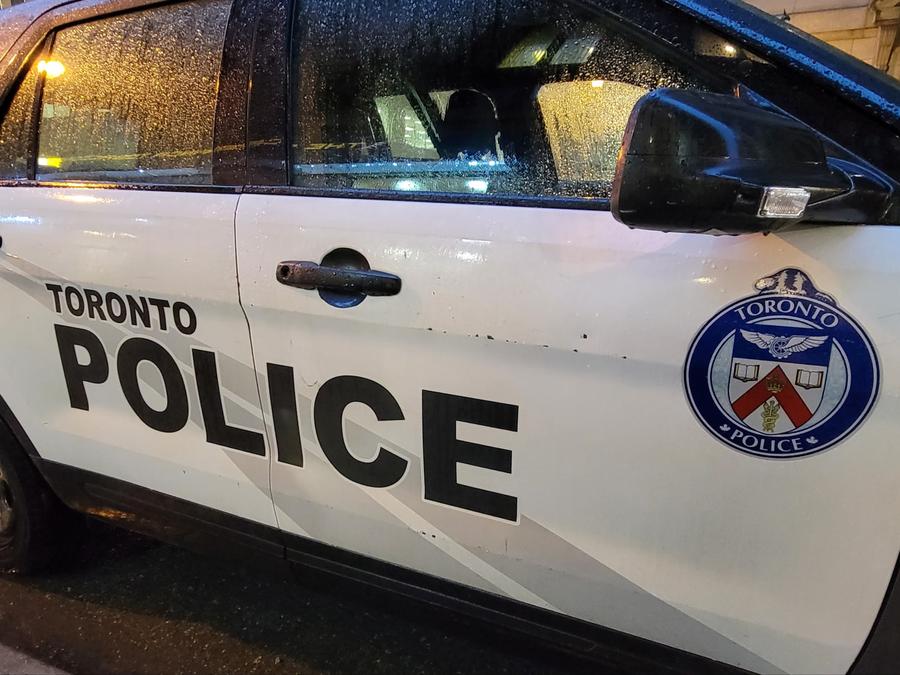 When I filed an FOI to the Toronto Police Service in 2018, seeking data on 911 wait times in the city, I was envisioning a straightforward story about the number of people being put on hold when calling for help.  
It was a contentious issue that year – the root of a bitter dispute between the city's police force, police union, and the mayor. The Toronto Police Association, headed up at that time by Mike McCormack, had erected billboards around town that said: "These guys are putting your safety on hold." The billboards showed a laughing Mayor John Tory, TPS Chief Mark Saunders and Toronto Police Services Board chair Andy Pringle, with "911" written in what looked like splattered blood in the background.  
The city had attributed the delays to misuse of the line in non-emergency situations, but the union insisted that it was a staffing problem. 
Whatever was going on, the delays were real. I coincidentally tried to call 911 around this time to report an assault that was happening on my street – and received an automatic message. And I'd heard similar stories from others who were unable to get through in an emergency. I wanted to know how common an experience this was. 
My request was simple (I thought): I wanted 911 wait-time data for the period between January, 2017, and December, 2018, including the number of people who were put on hold or were played an automated wait message. I specified that I wanted it in a machine-readable format, so that I could easily analyze the data in a program like Excel. 
The request was denied, on the basis that it would put an "undue burden" on the police force to collect the data, and that releasing it could pose "an operational threat" to both TPS and the public.  
I filed an appeal. What followed was a years-long process – mediation and then adjudication – that involved a series of evolving excuses from TPS as to why I couldn't have that information. 
TPS Access and Privacy Coordinator Paul McGee argued that retrieving the data would be too burdensome for the service, because they'd have to manually sort through call logs and make individual calculations for each one. 
Even if they did, he argued, releasing the data would compromise public safety by aiding criminals to determine the "best" time to commit a crime, when resources are tied up. He cited recent events at the time including the Toronto van attack and the Danforth shooting.
"It is highly probable, in a city as large as Toronto, other major events will occur. Therefore, if released, the data, clearly showing that there are busier times of the day than others … would inevitably aid an individual(s) with facilitating an unlawful event hampering crime control," he wrote.
"It is not necessary for the public to know the specific data in order to continue to have trust and reliance in the police. The institution strongly believes public and officer safety far outweigh curiosity."
In my representations to the adjudicator, I took issue with both these positions.  
"Respectfully, this is not about curiosity," I argued. "This is about accountability and transparency. If the 911 system is so bogged down that people are unable to get through, the public has a right to know so that it can be addressed." 
Had the service informed me about the challenges with collecting the records, I added, we could have discussed a potential compromise (for example, a modified time frame).  
But I soon learned that it didn't matter how persuasive or powerful my arguments were because the information I wanted no longer existed. When it became clear TPS would have to release the data, they revealed it had long since been erased from their system.   
"I am troubled that this is only being revealed now, and that it was never flagged earlier in this process that there is a time sensitivity to the information requested. To me, it speaks to their lack of respect for this process," I argued to the adjudicator.  
Eventually, TPS said they could give me the 911 wait-time data for a more recent (and totally unrelated) time period. I agreed – though I stressed to the adjudicator that I wanted this out of principle only, given the irrelevance to my original request.  (My main gripe was with their original excuses, which I felt belittled my profession, dismissing my queries as "curiosity.")
When they did finally deliver the "response record," it was in a .pdf format. They claimed that they thought "machine-readable" meant anything you could open on a computer. 
Finally, after a stern order from the Information and Privacy Commissioner of Ontario in May, 2022, they sent me a Microsoft Excel sheet of 911 wait-time data. It was for the previous six months – years later than the time frame I was interested in, and so far removed from the public spat about 911 wait times that Mike McCormack, Chief Saunders and Andy Pringle had all retired from their roles. 
It was a victory, technically — but a hollow one.  
TPS was able to drag their heels and continuously move the goal posts for so long that the data I really wanted – and ultimately was deemed within my rights to get – was not only redundant, but long gone. If that was their strategy, it worked.  
As one FOI watchdog tweeted: "A straightforward FOI request by a journalist for records on a matter of public interest triggers ridiculous foot-dragging by Toronto police for more than two years (& still unresolved). Public bodies are reflexively secretive, and police are among the worst offenders. #cdnfoi"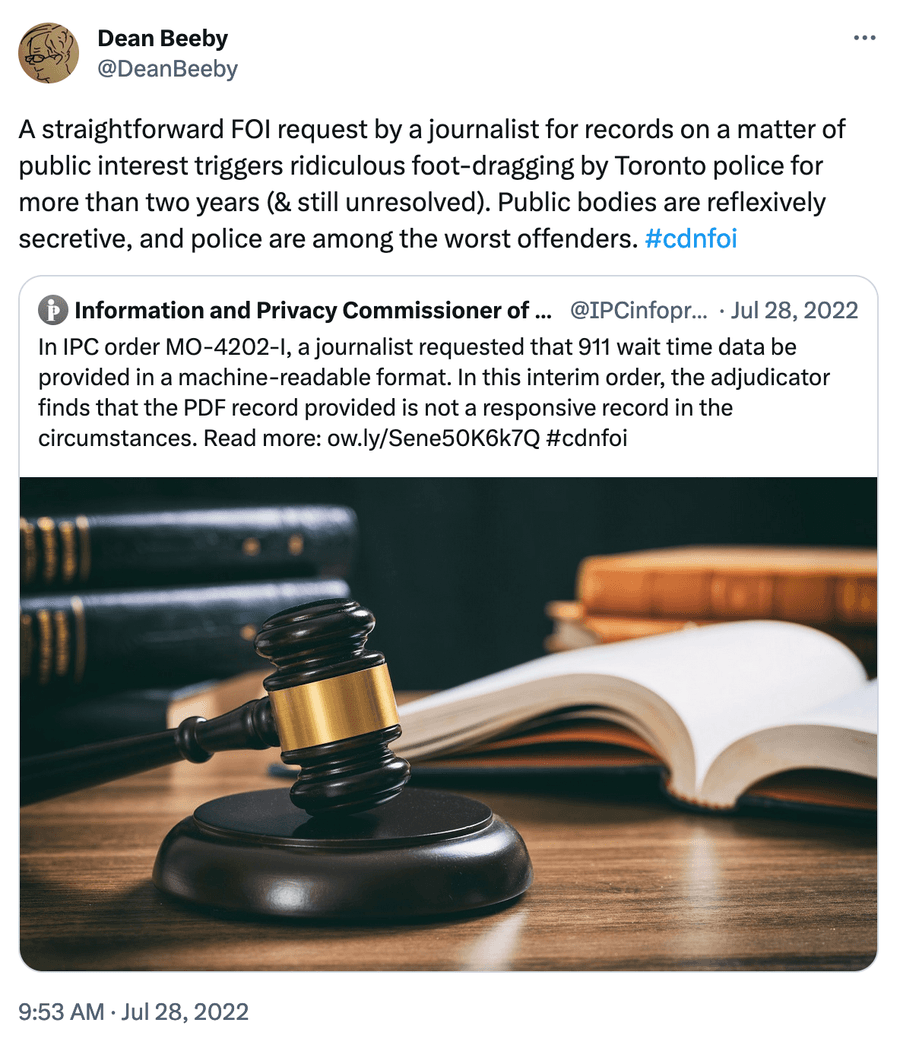 In May, the Canadian Association of Journalists awarded TPS with a Code of Silence award, partly for their foot-dragging in this case. 
"This kind of roadblock is all too common for journalists when reporting on police forces in Canada," wrote CAJ President Brent Jolly. "At best, it points to public agencies needing to up their record-keeping game rather than playing 'hard to get' with journalists. At worst, it raises the fundamental question: what is there to hide?"
---
We'd love to hear about how you're using Secret Canada. Send us a note or use the hashtag #SecretCanada on social media. This information helps us grow the project.
To stay updated on FOI news, upcoming data releases and new features, sign up for The Globe's Secret Canada newsletter.