For public institutions: How to respond to our FOI requests
This guide is designed to help FOI offices handle the requests we send them for data, which we then use to populate our national database of completed FOI requests.
Dear FOI office,
If you're visiting this page, you've received a freedom of information request from us for records connected to your FOI request tracking system.
To recap, our request text is as follows:
The vast majority of large public bodies use a records/data management system to track and manage FOI requests. We are seeking access to the following fields:
The request number or unique identifier,

The most detailed request text available in the tracking system, be that the full request text or a summary,

The date the FOI was received,

The date the FOI was completed,

The disposition of the request (records granted in full, in part, denied, etc).
We are seeking this information for records that were completed between [start date] and [end date]. We are only seeking access to general records requests, not personal record requests. We are also not seeking access to information about FOIs that are not yet completed, or FOIs that were withdrawn, abandoned, transferred to another institution. Also do not include FOI consultation requests from another public entity. If you cannot easily filter these out, please include everything.
We launched this project in June, 2023. During our first round of requests last year, we noticed many FOI offices were asking the same questions. We have prepared this guide to address the most common ones.
Table of contents:
---
What are you requesting, exactly?
We want specific fields of data from your internal FOI tracking system related to completed FOI requests. This is the software that you use to keep track of access requests that have been received by your office. Large institutions typically have sophisticated systems, such as AccessPro, Nordat, SharePoint or ATIPXPress. Smaller institutions may just use Excel or Google sheets. In rare instances, we have encountered public bodies that don't use any tracking system. (In this case, please contact us for further steps.) We are not seeking access to all the data within your tracking system – only the specific fields/columns outlined above. Our letter template can be found here.
---
What if our institution handles requests for other public bodies?
Some public bodies handle requests on behalf of entities that, in other jurisdictions, operate on their own. For example, the City of Winnipeg manages requests for Winnipeg Transit, but in Toronto, the Toronto Transit Commission handles its own files. Ontario's Ministry of the Solicitor General handles requests for the Ontario Provincial Police. If this is the case for your institution, please include an additional field – if possible – identifying the division/department/entity. (For example, a municipality would include an additional field identifying fire, police, ambulance or transit services. A regional health body might identify individual hospital names.)
---
What will you do with the data?
The information sent to us will be incorporated into our national database of completed requests. The FOI summaries you send will be posted as-is. We will also publish the source files you send to us.
Here's an example of how your public institution's information will be displayed:

---
Do you want personal information requests?
No. Most FOI units across the country divide requests into two rough categories: "general" requests, and personal requests. We are only interested in the former. Our database is designed to help people learn what types of information has already been released and to provide tools for them to "piggyback" on previous requests. Because personal requests are only accessible to the specific requester, it is not useful for our purposes. If your office does not differentiate between the two categories of requests, please send us data for all requests you completed for the time period in question.
---
Is there anything else you don't want?
The goal of Secret Canada is to show people what information has already been released by public institutions so that they can avoid filing new FOI requests if the information has already been released. We teach people how to file "piggyback" requests for previously released FOIs. As such, we are not after summaries connected to FOI requests that cannot be piggybacked. For example, abandoned, withdrawn or transferred requests are not useful. (Some public bodies receive "consultation requests," in which they are asked to weigh in on the FOI request of another institution. We do not want information on these either, since the request is not being fulfilled by your office.) We don't want requests that are not yet complete.
---
We don't have an FOI tracking system. How should we respond?
We encountered very few offices that had truly no tracking system whatsoever. Most used specialized software, but some used Microsoft Word or Microsoft Excel. If that's what you use, that is your tracking system. If you truly have no tracking system, please contact us so we can discuss next steps.
---
Our system doesn't export data. What should we do?
What kind of system are you using? Is it AccessPro, Nordat, SharePoint or ATIPXPress, for instance? As we learned last year, all of these are usually able to export data about requests, as do most other types of tracking software used by Canadian public institutions. It's possible you don't have the right user permissions to export a spreadsheet file. For instance, during our 2022 round of requests, one FOI office had to ask the company that supplies their tracking system to provide an extract of the data. Please check with your manager and IT department on whether the data can be exported.
---
Why don't you want the information in PDF format?
We are aware that some offices prefer to release files as PDFs. Some have said this is office policy, because the institution wants to ensure that the record is not tampered with. We implore you: Send us a machine-readable spreadsheet file, not a PDF. PDFs often come in at severely diminished quality, making text illegible in some cases. Formatting errors are common, with individual cell data cut-off. When you send us a PDF, it means we must spend hours manually transcribing the data, which means we end up spending less time adding new institutions to the Secret Canada database. Requiring us to convert your PDF into a spreadsheet introduces the potential for error and is a disservice to Canadians. Moreover, FOI laws in Canada include a duty to assist the applicant. Virtually all of them have some language governing record formats, and in almost every case, these laws state that public bodies need to provide records in the format requested, within reason. If you have specific concerns, please reach out.
---
What's the best way to handle redactions if we're sending you an Excel file rather than a PDF?
In our 2022 round of requests, many public bodies ultimately redacted the text directly in Excel cells. They did this by replacing, say, a person's name with [REDACTED] or something similar. This is perfectly acceptable to us, and far better than having to deal with images locked in a PDF document.
---
Do you want the information password protected?
No. Please, do not do this. We need to be able to copy the data from the files you send us. Password-protecting them makes it impossible to copy from the file.
---
What if our system doesn't track all of the fields you've requested?
In this case, send us the fields that you do track. If your system doesn't track FOI summaries or request texts, please consider finding a way to provide it in the interest of transparency. If this is not something your institution is willing to do, The Globe will abandon its request with your institution.
---
What does a "good" dataset look like?
We've received well-formatted files from many public institutions. Here's an example from Ontario Power Generation: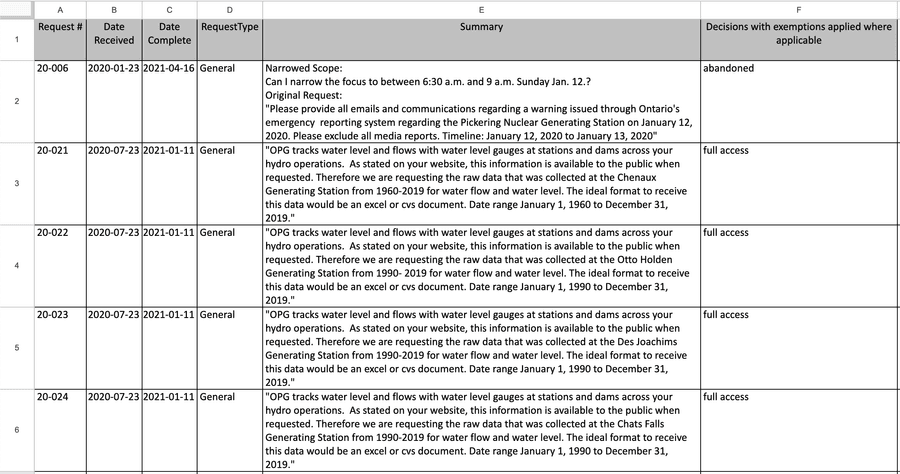 ---
What if we don't give you what you're asking for?
We'll make one final push to remind you of your duty to assist. In our reporting, we have found a major issue with Canadian FOI processes is that there are no consequences for improperly withholding records or refusing to comply with FOI law. This is why we created the "News" section of Secret Canada. The goal is to highlight the good and bad with access in Canada, and to call out bad actors. As such, how institutions respond to our requests will be included in Globe reporting as well as in the Secret Canada "News" section. As an example, see this piece from early June.
---
You're asking for a lot of data. This will likely attract a fee.
We recognize that many jurisdictions allow for the charging of additional fees. We filed more than 450 requests like the one above in 2022, and found that in almost all cases, we were not charged any fees beyond the application fee (if applicable) because the data was very easy to export and provide. That said, we recognize that in some cases, a small fee may be appropriate. In the event your institution plans to charge the Globe a fee for this information, please keep in mind that this work is being done as a free public service, that Secret Canada is not paywalled, and that any money spent on processing fees is money that can't be spent collecting information from other institutions.
---
You've asked for data regarding freedom of information requests, but our jurisdiction calls them something different.
A number of public institutions last year complained that our access requests did not cite the exact title of their given legislation. In order to simplify the filing process, we use the same language for all requests. Because "freedom of information" is the language used in most countries and is the most commonly-used description in Canada, we have used this term. We recognize that some Canadian jurisdictions also call FOI requests "access to information requests," and "right to information requests." To be clear: These are all formal requests for public records under access legislation.